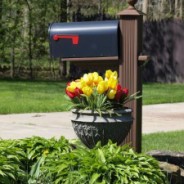 Dressing up your lawn with little flowerbeds and a good trim is something quick and easy most homeowners can do, but why stop there? Looking for some easy and efficient ways to maximize the curb appeal of your home using a garden, then follow these tips and the neighbors will take notice.
The Mailbox
Replacing your mailbox is a simple tried and true way to increase curb appeal, but since you'll be in the trenches with a shovel in hand, there is no better time to plant a welcoming mailbox garden.
When designing a mailbox garden, you want to choose plants that will not become overgrown or require too much upkeep. Dwarf, compact shrubs are good choices because they stay smaller and require less pruning. Groundcovers such as Liriope, daylilies and Agapanthus are useful because they don't get too tall and quickly fill in. Place taller plants towards the back and plant some seasonally appropriate annuals at the front.
Beauty at the Doorstep
Placing a container garden at your doorstep is a quick and affordable way to liven things up, be bold and set the tone! Place multiple stately glazed ceramic pots to each side of the door, each filled with spectacular foliage plants – these plants will exud
e confidence and grace. Make sure to choose pots and plants that complement the colors of the house.
Make the Emotional Connection Between House and Plants
Often overlooked, incorporating plants that create a connection to the best features of your property is guaranteed to increase the aesthetic appeal of your home! If it is a waterfront property in the South, use palm trees to frame the view and create a sense of paradise. If the property offers a nice view of a prairie, plant a groundcover of ornamental grasses to connect the yard to the beauty beyond. Don't skimp on the price either, because the bigger and nicer the plants, the bigger the impact!
Information courtesy of Miracle-Gro.